Blue TN is a digital media company specialized in environmental issues and recipient of awards from both the Deutsche Welle ( Media Loves Tech Program) and Entrepreneurship Lighthouse Program (European Union).
BLUE TN is Tunisia's first creative digital media addressing environmental issues.
BLUE TN's editorial line is based on 4 objectives:
Raising awareness through mainstreaming environmental issues.
Enlighten the general public on the alternatives for a model of sustainable development.
Influencing Tunisian decision-makers.
Promoting eco-friendly projects good initiatives and green experiences in Tunisia.
Our Vision 
For a resilient Tunisia facing climate change.
Informed and aware citizens.
Public policies are committed to sustainable development.
Mayssa Sandli: Co-founder & CEO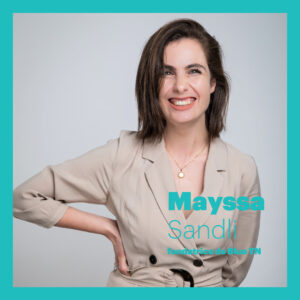 Born in the Tunisian Cape Bon region, she was raised with the help of her grandmother on a small farm surrounded by orange trees.
Mayssa holds a Master's degree in Quality Safety Environment management a Bachelor's degree in Applied Biotechnology, and a university certificate in Sustainable Development from the University of Michigan and SDG Academy. Before founding BLUE TN, she led several citizen initiatives to encourage eco-tourism in southern and northwest Tunisia by traveling by bicycle.
After several terrorist attacks targeting Tunisians in 2017, she embarked on a bicycle trip with another female friend. They spent two weeks biking by themselves through Southern Tunisia in remote Amazigh (Berber) desert villages to promote eco-tourism, encourage Tunisian women to participate in biking, and help local craftswomen along the way.
Mayssa has been active in Tunisia's civil society since 2015, leading campaigns for nature and biodiversity preservation with local NGOs. She has led many trainings in digital communication for environmental advocacy campaigns for many organizations, including the EUROMED Network for Human Rights, the Tunisian Association for the Protection of Nature and the Environment (ATPNE), the Women Voters League, and more. She has also given lectures for the Tunisian War College, Heinrich Böll Stiftung, and Greenway Maker about the security challenges of climate change and the media treatment of the IPCC (Intergovernmental Panel on Climate Change) report.
Contact: mayssa.sandli@yahoo.com
Kerim Bouzouita:  Co-founder, Advocacy, and editorial Advisor & doctor in anthropology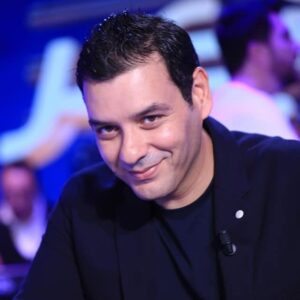 Kerim is a Doctor of Philosophy in Anthropology (Univ. Paris 8, and also holds a Master's degree in Communication (Pôle Universitaire Léonard de Vinci), and a Master's degree in Philosophy and Arts (Univ. Paris  8). He is a researcher, lecturer, and author (Loyola University of Chicago, War College, Ecole Supérieure de Journalisme de Paris, Tunisian School of Politics, etc). He's the Author of numerous books and studies and reference books on soft power, advocacy, political communication, cyber-activism, and media.  He is an advocacy, media, and communication advisor and trainer for various international organizations (United Nations. European Union, Council of Europe, MICT, GIZ, etc.)
Contact: kerimbouzouita@gmail.com
Contact-us
Tel : +216 53 239 446
Email: mayssa.sandli@bluetunisia.com
LinkedIn: https://www.linkedin.com/company/blue-tn 
Facebook: @Blue.Tunisia
Instagram: https://www.instagram.com/blue__tn/
Twitter : https://twitter.com/Blue___tn