Modern pirates look nothing like Jack Sparrow aboard the Black Pearl, nor do they have anything in common with the Straw Hats of One Piece. Pirates aboard trawlers are the new criminals of the seas and oceans. This industrial fishing practice creates one of the most unfair forms of competition for Tunisian artisanal fishermen. With more than 2,288 anonymous and unregistered trawlers operating in Tunisia, bottom trawling is a prohibited and unsustainable trade that endangers fisheries resources, depletes fish stocks, ravages the sea bed, and negatively impacts vulnerable underwater habitats
The coasts of Sfax: den of pollution and landmark of trawlers
December 2022 at the fishing port of Sfax, where trawlers clutter the quays in full view of everyone just opposite the Fishing Ports and Facilities Agency. This is where we discreetly find a fisherman who owns a trawler whom we will call Sami* for anonymity. A pirate of the seas who revealed to us his involvement in illegal, unreported, and unregulated (IUU) fishing.
I grew up in a family of fishermen and I started working in the artisanal fishing industry at the age of 15. It was my father who made me inherit this profession and this passion for the sea. For 10 years, my activity was limited to line fishing and gillnets and trammel nets, then I converted to trawling (kis). Now I am independent and have owned a trawler for 5 years.

Declares Sami* the Kis fisherman
Sami*, like the majority of fishermen in Sfax, decided to embark on bottom trawling and try his luck in order to improve his situation and increase his income.
I am aware that this is a prohibited practice and degrades biodiversity, but I have to work to earn a living. With my trawler, I earn 10 times more than with traditional fishing. This job is so attractive financially. I understand very well the other fishermen who have taken up trawling hoping to earn more and improve their families' financial situation.

Laments Sami*
Bottom trawl: A destructive fishing gear
IUU fishing represents up to 26 million tonnes of fish caught annually according to the FAO. The bottom trawl also called the benthic trawl (Karkara or Kis), is a prohibited fishing gear, similar to a bag made from nets with two openings and kept in contact with the bottom through a bead. It is an active fishing gear towed by an inshore fishing boat that scrapes the bottom with heavy chains. According to Abir Gharbi, fisheries and environmental engineer: "This gear is known for its low selectivity due to its small and unregulated mesh. It can capture small specimens and have a relatively high discard rate". Bottom trawling is particularly active in the Gulf of Gabès, mainly in the region of Sfax (Mahres, Kerkennah, Sidi Mansour, Ellouza, and Skhira) and in the region of Gabès.
The kis is a fatal device that has deserted our coasts in Kerkennah. A huge fleet of fishing boats is observed day and night, constantly throughout the year fishing large quantities of fish, crustaceans, cephalopods, and seagrass.

Kays Ezzeddine, artisanal fisherman in Kerkennah, Sfax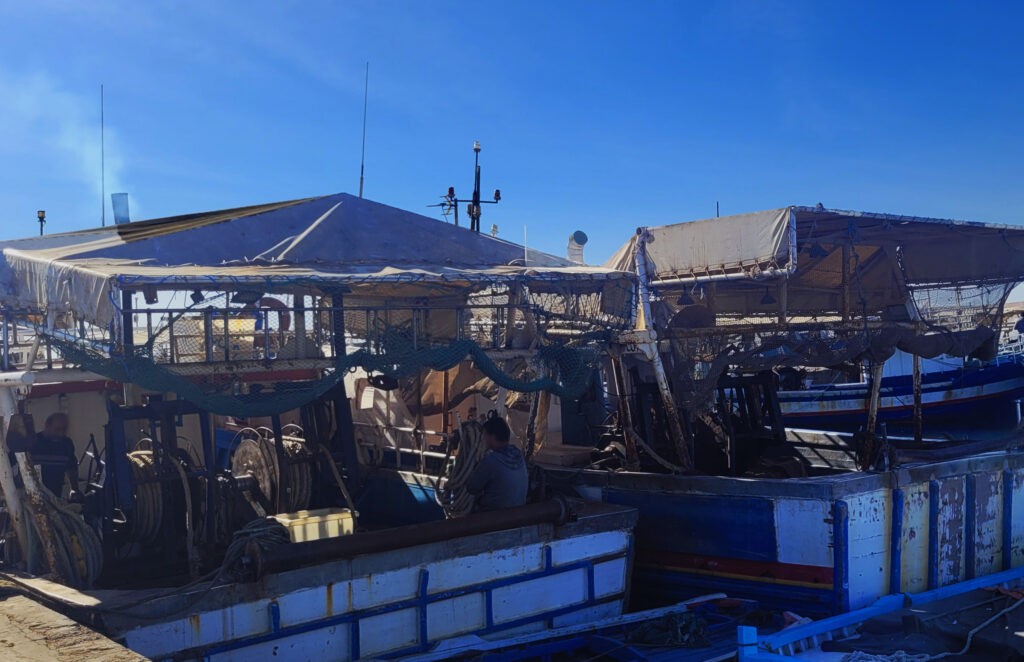 This gear is one of the main causes of bycatch or incidental catch in Tunisia. Moreover, only between 18-25% of the fish caught by the bottom trawl have a commercial value and can be sold in the markets, while more than 25% of the remaining catches are specimens of 1 cm or less which end up dying and being thrown back into the sea as discarded bycatch. According to Sami*, bottom trawling is a strictly prohibited practice in Tunisia as "it does not respect biological rests and is not selective. In addition, the owners of the trawlers do not have fishing permits, and yet bottom trawling is practiced freely on our coasts and the fruit of this fishing is landed on the quays of the fishing ports without the slightest attention from the local authorities." Adds Sami*. Although these offenses have a direct and harmful impact on underwater health and fish stocks, impunity rules in Sfax, where regulations and controls are supposed to be the strictest.
Trawling impacts protected and threatened marine life, it is a crime against the environment and its natural balance according to law n°94-13. The degree of impact of trawling depends mainly on the depth at which it was used, the power of the trawler, and the mesh size of the nets.
By crushing the seabed, the bottom trawl damages the habitats and organisms on the bottom, including seaweed, corals, and Posidonia seagrass. .

Reveals Abir Gharbi
Even if it does not reach the sea bed, the physical pressure of this device generates man-made modifications that cause the alteration of surfaces, the modification of the morphology of the sediments, and the desertification of the seabed. Other equally dangerous consequences are linked to the increase in water turbidity and the release of contaminants or organic matter buried in the sediments.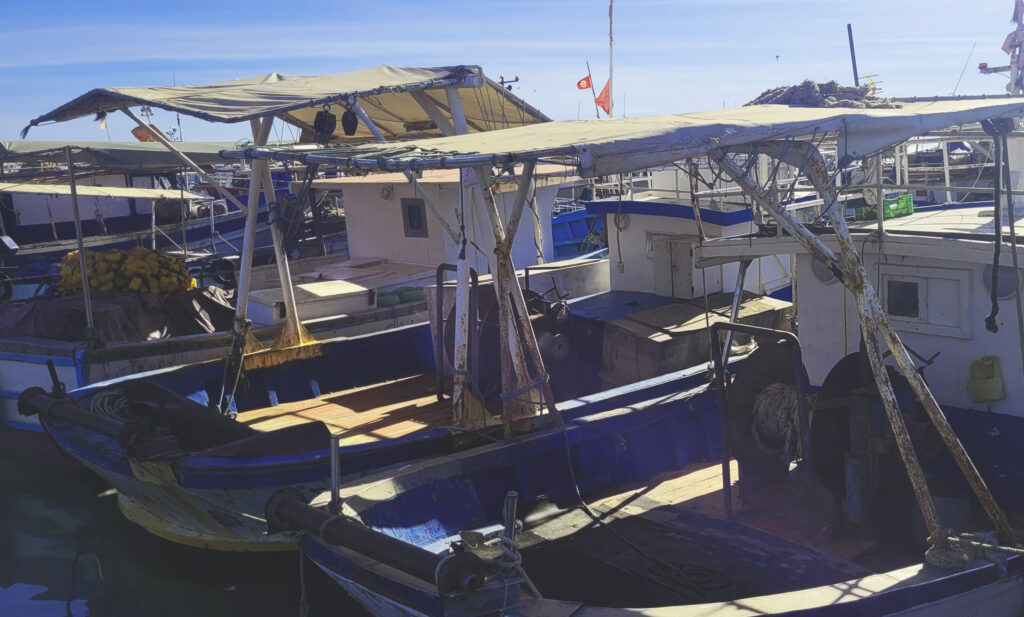 According to Abir Gharbi, this criminal fishing practice has a direct impact on a wide range of different species and age categories. It crushes benthic species, depletes fish stocks, and entangles protected and vulnerable species. Octopuses, sea turtles, sea breams, rays, and sharks are the species most often caught accidentally by trawl nets as bycatch.
The sea has changed a lot, fish stocks are in worrying decline and production is falling. Illegal, unreported, and unregulated fishing is solely responsible for this alarming situation, but trawling alone is only one link in a chain of violations committed by fishermen, managers, and decision-makers who have all contributed, each in their own way, to deteriorate the fishing sector in Tunisia and weaken its control system.

Deplores Sami
The rejection at sea of ​​specimens not for sale is not only harmful to the species destroyed (fish and crustaceans of small sizes), but it also has negative repercussions on the ecological balance and the marine ecosystem. The rejection of specimens not fit for sale attracts species that feed on carcasses, thus creating an imbalance in the trophic chain.
The release of specimens of protected species caught alive, such as sharks and small octopuses, is a behavior practiced by a few conscious fishermen. However, it seems that the majority of trawlers do not think about preserving the richness of biodiversity. In addition, based on testimonies collected, fishing is not their main activity, it is only a temporary occupation that allows them to earn additional income. However, some fishermen like Sami* remain aware that preserving biodiversity will make their livelihood more sustainable in the long run.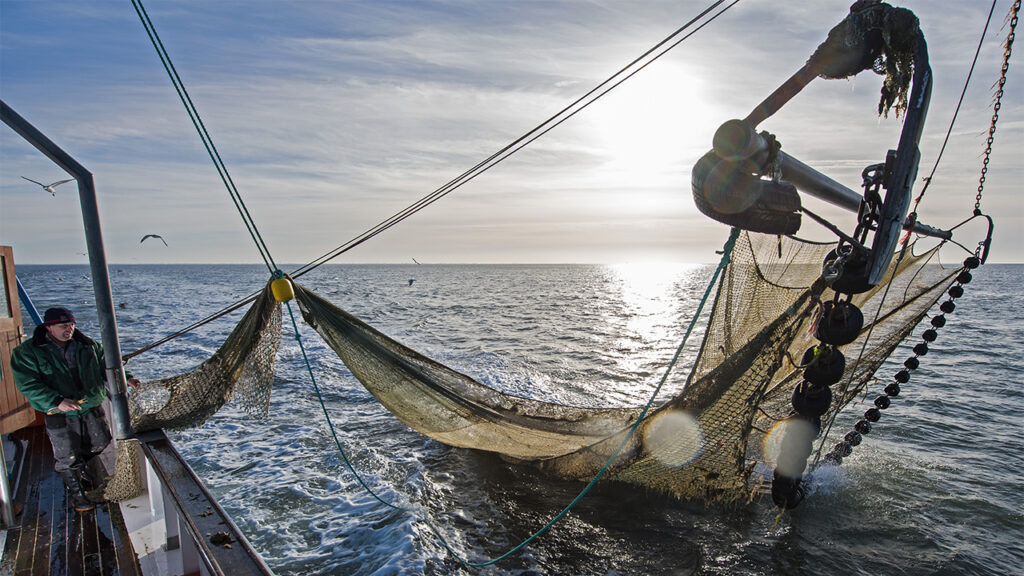 According to the statement of Abdelmajid Dabbar, president of the Association Tunisia Ecology, given to Lapresse, the Tunisian coastline and particularly the Gulf of Gabes, are under intense pressure caused by illegal, undeclared, and unregulated fishing. Trawling tops the list of offenses. According to a study carried out by the International Center for Advanced Mediterranean Agronomic Studies (CIHEAM), there were 404 trawlers in 1992, in 2021, this fleet exceeded 2388 trawlers, 90% of which are in Sfax. According to Salah Charfeddine, Secretary General of the Tunisian Union of Agriculture and Fisheries: "the number of trawlers even exceeds 3000 units". Local fishermen are not the main owners of these boats, they are often owned by "intruders" with other professions.
The majority of trawler owners are not fishermen, 90% are intruders: people who come from the liberal profession, jewelers, traders, businessmen. These are often people who have power or who are financially well off.

Outraged Sami*
Artisanal fishing; a cultural heritage threatened with extinction
According to Mahdi Hamdouni, an artisanal fisherman from Sfax who is still holding out and resisting his ancestral and sustainable fishing techniques, illegal fishing has exacerbated the fragile situation of the fishing sector in Tunisia. This is reflected in the fall in fish production following the increase in fishing efforts, overfishing, and non-compliance with the law since 2011.
The socio-political instability of the country, the climate crisis which is hampering fishing activity as well as inflation and the rise in the prices of bait and fishing equipment are weighing heavily on fishermen. The destruction of marine habitats and the overexploitation of fisheries lead to a loss of activity.
Artisanal fishing is no longer profitable, it does not allow fishermen to earn a living or even cover the costs of fishing trips. The latter has become a leisure activity more than a job. The majority of artisanal fishermen have sold their boats. Others have converted to trawling. A trawl fishing trip that lasts about 12 hours, and provides between 1,000 and 2,000 dinars, ten times more than artisanal fishing!

Reveal Sami*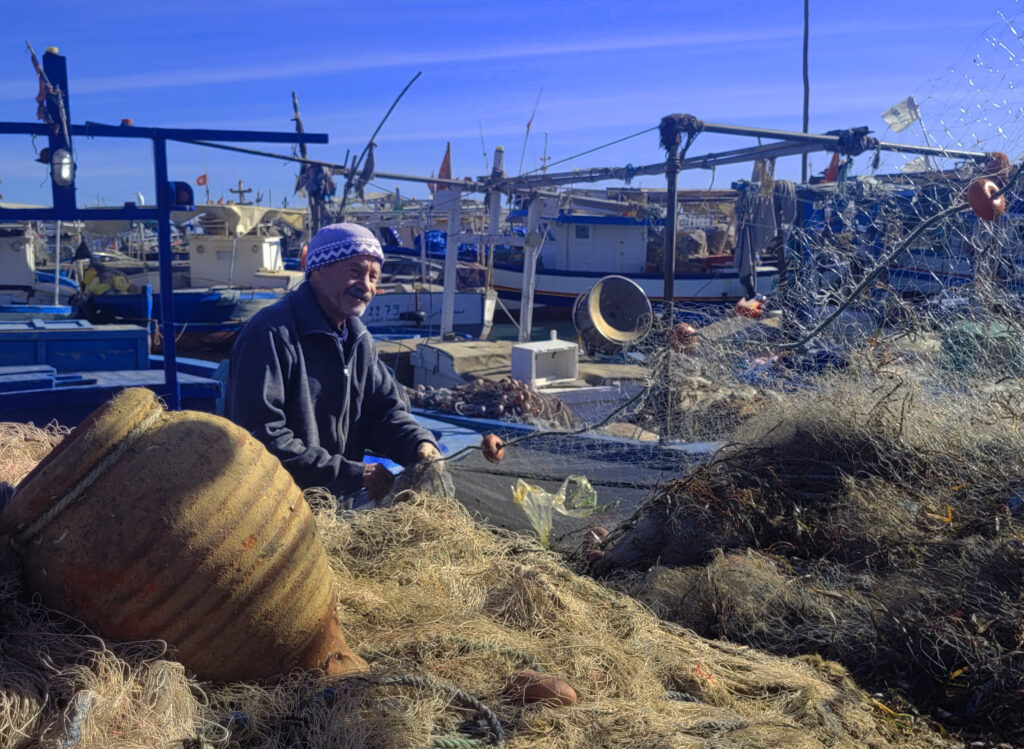 Trawling is an easy livelihood that does not require mastery of fishing techniques or the slightest physical effort. This is why young people nowadays prefer it, and why artisanal fishermen are converting to bottom trawling.

Regrets Mahdi Hamdouni, artisanal fishermen from Sfax
The indifference of the Tunisian authorities concerned, until when?
According to the law, trawling is strictly prohibited, it is only authorized at depths more than 50 meters for authorized trawlers and outside the biological rest period in the Gulf of Gabès. A period which extends, each year, from July 1st to September 30th. Although Tunisian laws strictly prohibit Kiss fishing, these boats, since they are undeclared and not provided with fishing permits by the Tunisian authorities, are automatically not tracked by port detection and surveillance systems VMS. This worrying gap between legislation and reality is an irrevocable verdict: the authorities have resigned.
We must put an end to this ecological tragedy and save the sea from illegal fishing which is weakening our coasts. Trawling is practiced in shallow depths that do not exceed 2 meters. They kill small specimens, uproot seagrass beds, and destroy fixed fisheries from Charfia to Kerkennah while damaging our nets. Trawl fishing is a danger that threatens the sustainability of artisanal fishing and our livehood.

Kays Ezzeddine, an artisanal fisherman from Kerkennah
The major problem lies in the application of the law and the fight against IUU fishing on the Tunisian coasts, where the policies and strategies supposed to deal with this scourge are not implemented to the degree necessary. To put an end to this illegal practice, actions must be taken to strengthen fisheries management and control measures. It is also urgent to invest in the improvement of tools for the traceability of boats and the awareness of professionals in the fishing sector.
* VMS: Satellite-based Fishing Fleet Monitoring System
This article was developed in collaboration with the Earth Journalism Media Mediterranean Initiative project.
Copyright © 2022 Blue Tunisia. All rights reserved
---
Sources
https://africanmanager.com/la-jica-au-secours-de-la-lutte-contre-la-peche-illicite-en-tunisie/
https://om.ciheam.org/om/pdf/c35/98606266.pdf
https://www.wwf.fr/champs-daction/ocean/peche-aquaculture/peche-illegale
https://lapresse.tn/79071/peche-illegale-les-mers-tunisiennes-a-la-peine/
https://www.un.org/depts/los/convention_agreements/reviewconf/FishStocks_FR_A.pdf