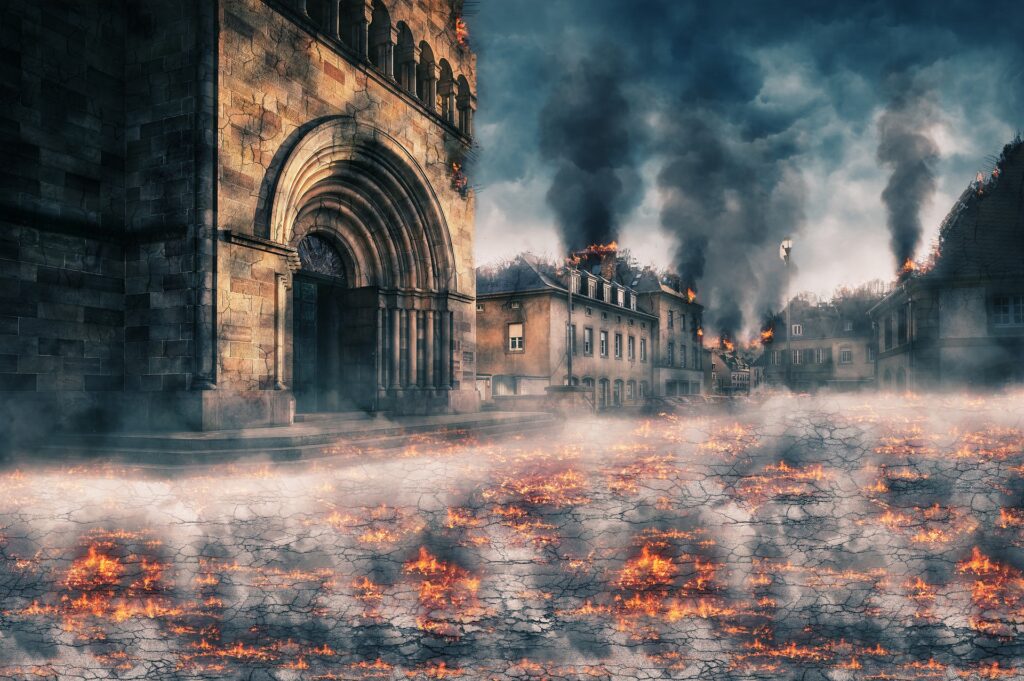 Russia has deployed to invade Ukraine mainly to recover the current economic situation by looting the energetics and food resources. However, this is disastrous for the East European region and catastrophic for the world. Water contamination damaged soil, and radioactive and toxic gas can be irreversibly harmful to ecology in human history.
According to the Center for Strategic and International Studies, Russia has set up a massive disposition of weapons within striking distance of Ukraine, including tanks, artillery guns, rocket launchers, ballistic missile systems, and infantry fighting vehicles. Each heavy gun fired is releasing harmful air pollution and each bomb will create a large zone of smoke. As result, these weapons can incredibly emit a large amount of carbon in the area.
48 hours in and we are already seeing a pattern of environmental harm in Ukraine!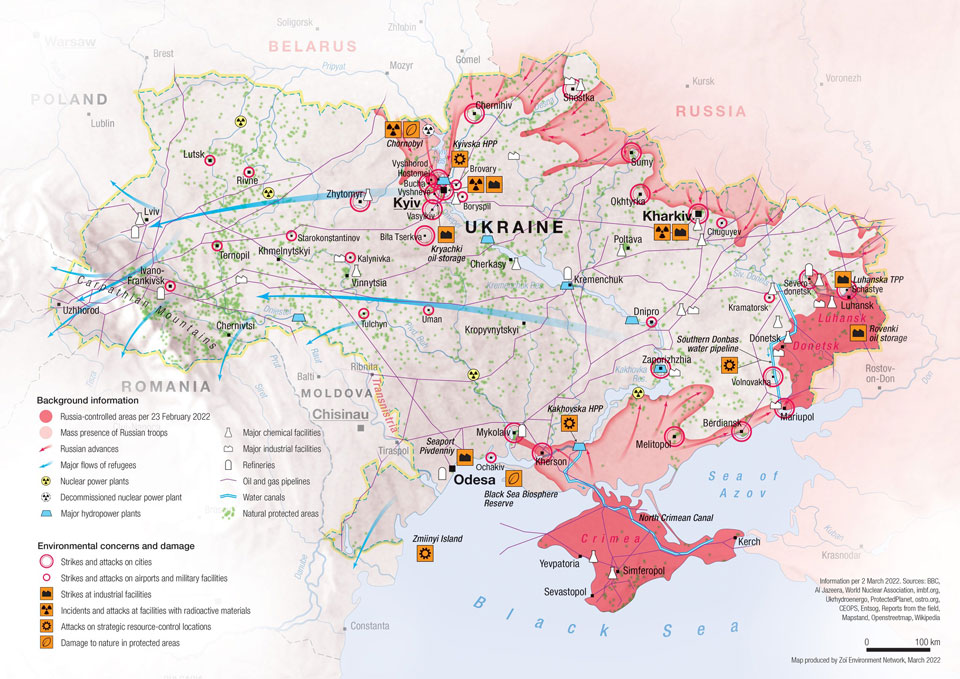 Climate Change Policy
"Analysts have said European countries can quickly reduce gas dependence with energy efficiency measures and ramping up renewable energy investments, which are already in line with Europe's ambition to stop pumping additional greenhouse gases into the atmosphere by midcentury. The conflict in Ukraine could fast-track some of that. It could also lead to what Lisa Fischer, who follows energy policy at E3G, a research group, called "a tectonic shift" — using renewables, rather than ample gas storage, to achieve energy security."
In the near term, climate advocates are concerned because the war and need for Russia's resources seem to have displaced climate change from the political agenda. I think it is entirely reasonable to shift our focus from climate policy to trying to stop a murderous lunatic from destroying Ukraine and then possibly turning his attention to other nearby nations. While we scramble for energy supplies to replace Russia's fossil fuels, the long-term impact of this war could and should be increased demand for renewable energy.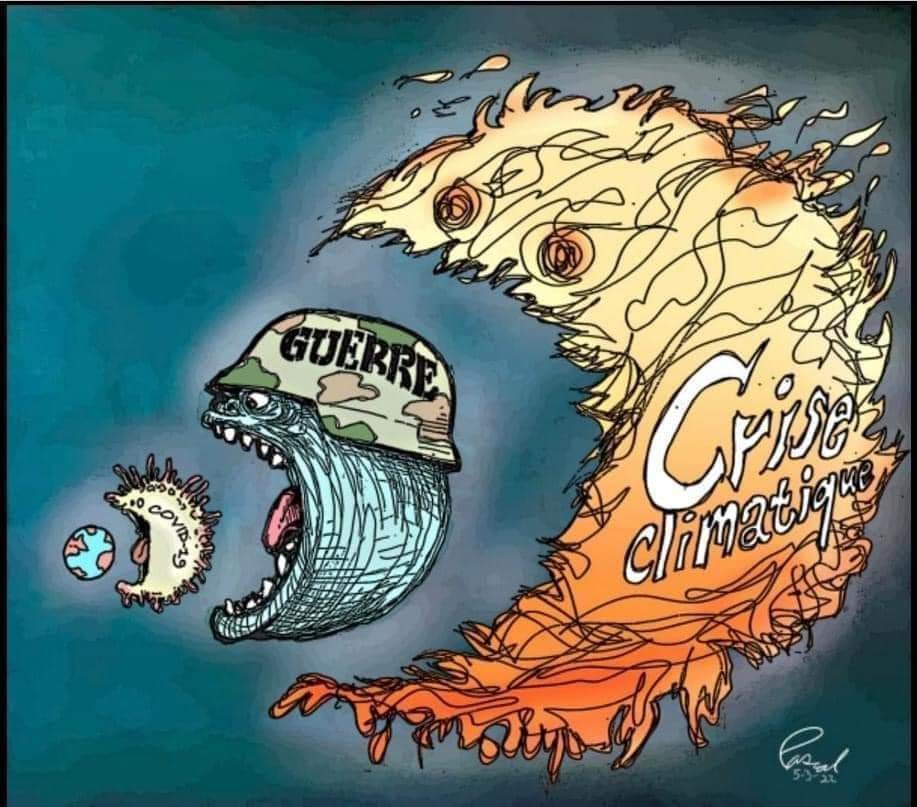 Damage and waste in return for natural resources
The consequence is unpleasant and about to amplify the ecological crisis to go through. The estimation of 6% in European landman will undergo if this tragedy should continue further. Not human will suffer from that but also 35% of Ukrainian biodiversity among bird plants and animals can be in danger and some of them can perish we can specify examples like Russian Desman Desmana Moschata and Spalax Arenarius. Thus, over 70.000 rare species of fauna and flora will be impacted during this conflict. In addition to, 16% of the forestial surfaces of Ukraine can be burned or are threatened to be so.
Water pollution
The Black Sea Basin covers almost entirely the territory of Ukraine, including several rivers crossing the country. The isolation of the seas from the open ocean has contributed to their rich diversity of flora and fauna. One of the most abundant plants is Phytoplankton which is a microalga that produces a tremendous level of oxygen. Subsequently, these algae species are under threat. So, decaying organic matter depleted oxygen supplies, killing bottom-dwelling organisms. Toxic discharges of gun power and bomb residue included extremely high levels of heavy metals. These problems set off a sharp decline in seafood resources. If these populations of algae decrease it will subsequently provoke a rise in the level of CO2 because they are responsible for absorbing a colossal amount of dioxide carbon and releasing a mass quantity of oxygen into the atmosphere. Somehow, this tragedy will intensify the climate change process.
Sadly, 33 wetlands that have a status of international importance can be remarkably impacted. It will alter the aquifer with iron, chlorides, sulfates, and other mineral salts, as well as heavy metals which are gradually poisonous for any living beings around this country and its surroundings.
Detonator for radiation bomb
In Ukraine, observers say that the destruction of the environment is likely to get worse before it gets better, especially as Russian efforts to take control of the country's important cities. The increasing attacks on civilian infrastructure over the past several days are an indicator that conditions will exponentially worsen.
During this war, the environmental damage is difficult to track and measure. The conflict has already raised acute concerns, like at Tchernobyl.  The scientist affirms that sensors recorded high gamma radiation levels there last week where the status of monitoring and maintenance is uncertain after. He also points to explosions at an oil reservoir in the town of Vasylkiv, just outside of Kyiv, which has been spewing unknown toxicants into the air.
The worst part of the story is that nuclear power plants risk exploding by accident airstrikes, such as the Zaporizhzhia nuclear power station which is one of the most giant nuclear power plants in Europe. As a result, occurs massive hazardous radiation that can reach a size of a continent. So a large part of Europe, including Russia, will entirely be uninhabitable for at least many decades. Unfortunately, even Tunisia can be reached by nuclear radiation, and it can be a complete disaster on the environmental level. Tunisia has been suffocating with a record in air pollution these last years. Sadly, these events will be a catalyst for sure to accelerate the process of global warming, it will have severe consequences to consider for a country passing by a series of crises.
This invasion will be harsh to the global situation that we live in. Not only a rise of the stock market of essential vital products and a menace to food security. But also, it will be catastrophic for the environment. It is like a bomb that countdown has already begun. Water pollution, air toxicity, and radiation are strong factors to accentuate the ecological crisis. This large-scale impact can directly influence our daily lives in Tunisia.
Will we take one step further to start thinking about the importance of implementing some strategy in order to start our energy transition and preserve our nature?
Copyright © 2022 Blue Tunisia. All rights reserved