The octopus species play an important role in the coastal region of Kerkennah, a Tunisian archipelago nestled in the Mediterranean Sea about twenty kilometers off the coast of Sfax. It is an integral part of the local culture, deeply rooted in the traditions of generations. Fishermen have honed the art of harvesting this enigmatic cephalopod over the years, forging a profound bond between the community and the sea. Nonetheless, despite its cultural significance, the octopus species faces several threats that endanger its survival. 
In fact, Tunisia's production has declined significantly. From 2008 to 2018, the average annual output was around 35,000 tons. However, production has dropped to less than 3,500 tons in 2021, representing a staggering 90% decrease. These difficulties have raised concerns about the long-term viability of this beloved symbol of culinary excellence and its place in the region's cultural heritage.
July 2023, Kerkennah
Kerkennah's Precious Octopus: A Cry for Help from Desperate Fishermen
Tunisia's once-thriving waters are now a source of concern, as the delicate balance of its fisheries is threatened. Meet Kays Ezzedine, an ardent artisanal fisherman from Kerkennah who laments the uncertain fate of his beloved sea, the very lifeline that sustains him. Kays' heart has always belonged to the deep blue, despite his tourism degree. But now, as he watches the once-thriving marine ecosystem crumbles before his eyes, he is filled with dread.
I grew up by the sea, and it has been my home for as long as I can remember. » Even with my studies, I define myself as an artisanal fisherman.

Kays Ezzedine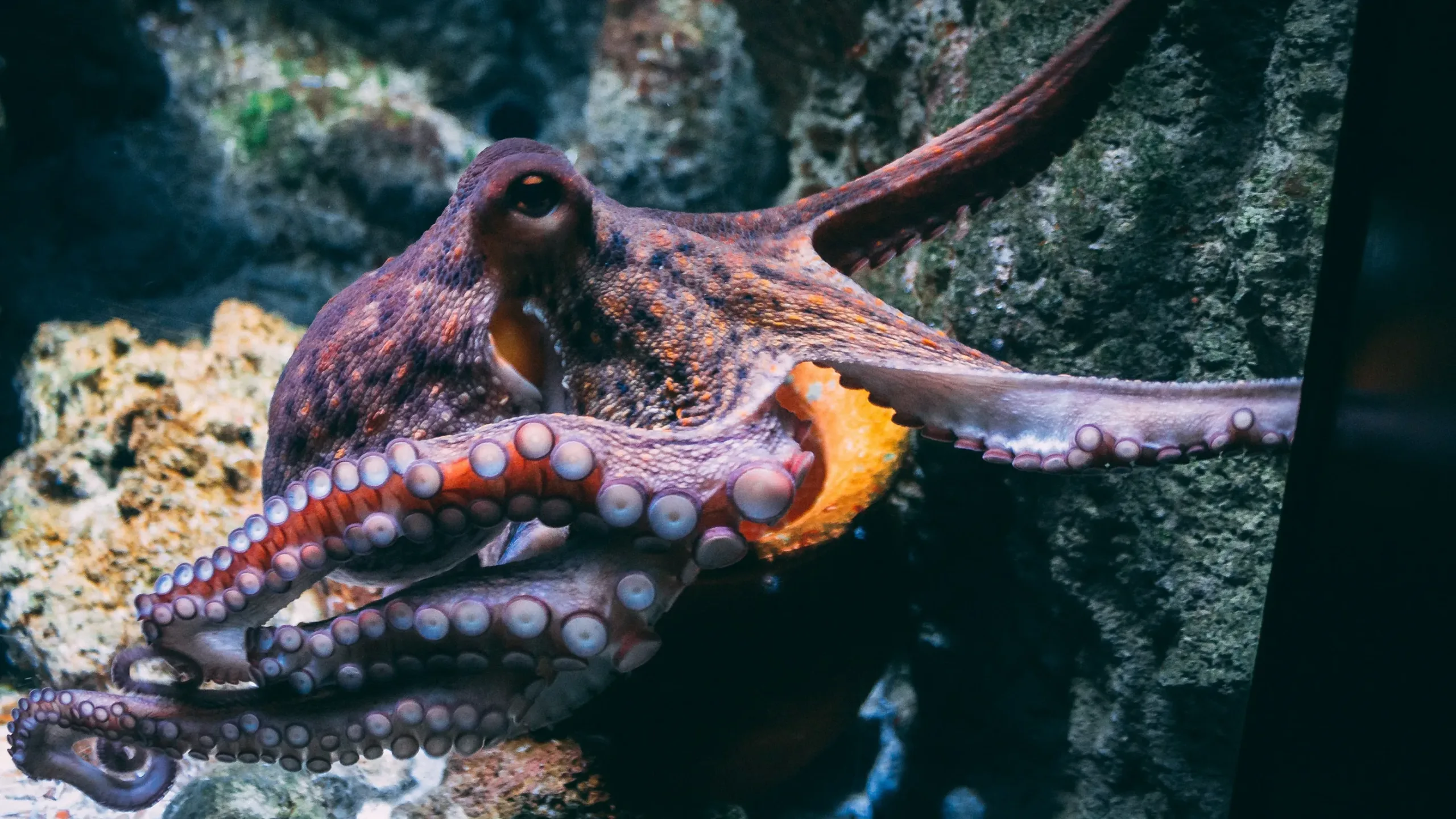 His voice was filled with emotion. Fellow fishermen share their deep concerns for the sea's future and the well-being of their prized marine species, particularly the iconic octopus that symbolizes Kerkennah's rich cultural heritage. The sea, which was once teeming with life and abundance, is now undergoing unsettling changes, raising concerns about what lies ahead. The fate of species is at stake, and the octopus, a key component of Kerkennah's coastal identity, faces an uncertain future.
Kerkennah's fishermen are worried that their way of life is vanishing as the sea changes. The octopus, once a thriving symbol of their cultural heritage, is now threatened with extinction, leaving a void at the heart of this coastal community.
Kerkennah's strong bond with the octopus
The Mediterranean ecosystem is home to eight octopus species, each of which can be found along the Tunisian coast. Octopus vulgaris, the common octopus species, is a prominent representative among these cephalopod inhabitants, with significant ecological and cultural significance in the region. However, the Kerkennah people's relationship with the octopus goes beyond mere culinary appreciation. It is a strong bond based on tradition, culture, and the deep connection between the local community and the sea. The octopus holds such a special place in the hearts of the people of Kerkennah that they commemorate its significance with a dedicated festival in which they gather to honor this extraordinary species that symbolizes their identity.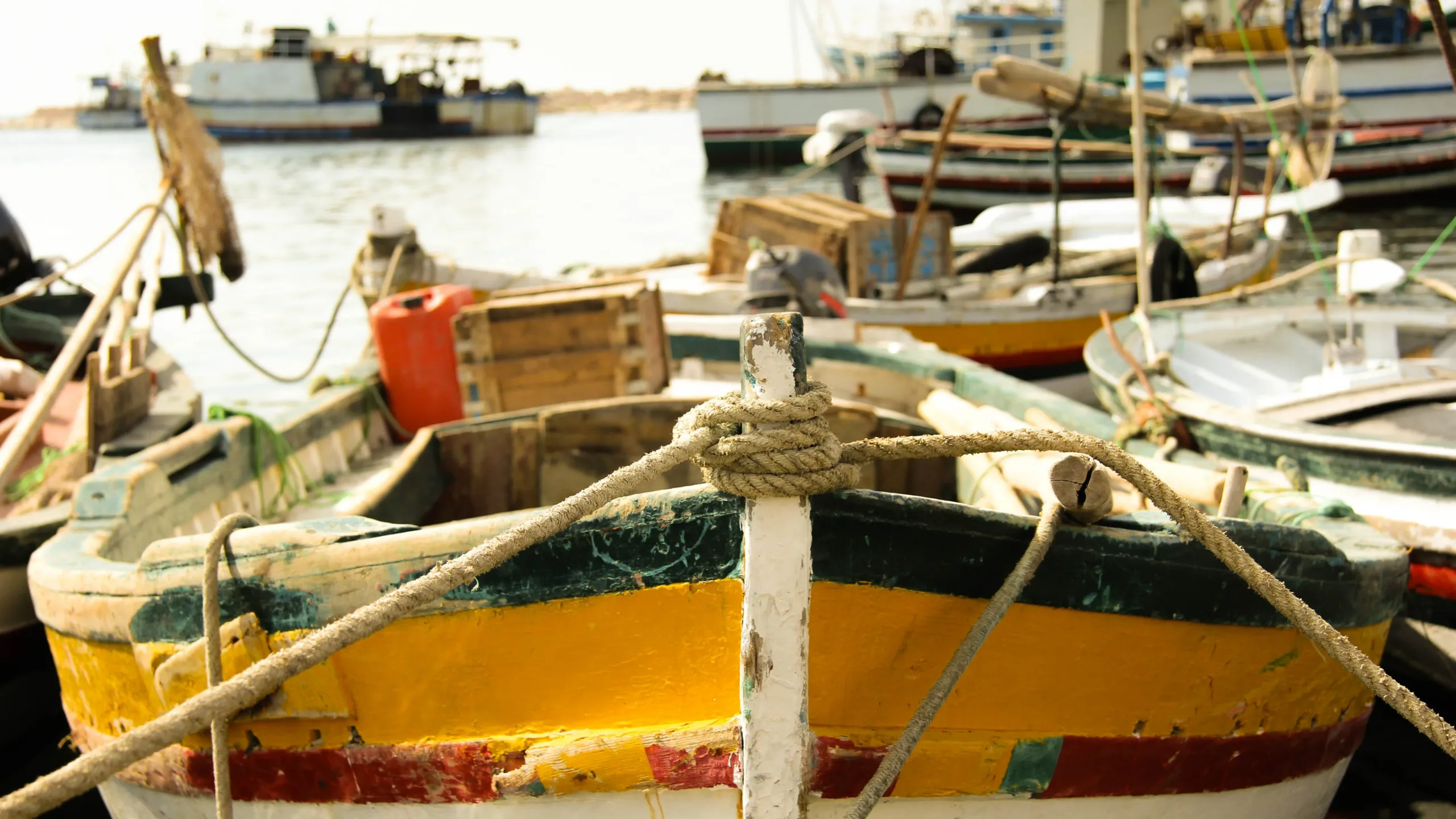 Generations of fishermen have passed down traditional fishing methods deeply rooted in their cultural heritage, ensuring this creature's sustainable harvest.

Kays Ezzedine
Furthermore, the Kerkennah people have created unique and special ways to cook the octopus, transforming it into delectable culinary delights that honor their coastal traditions and rich history.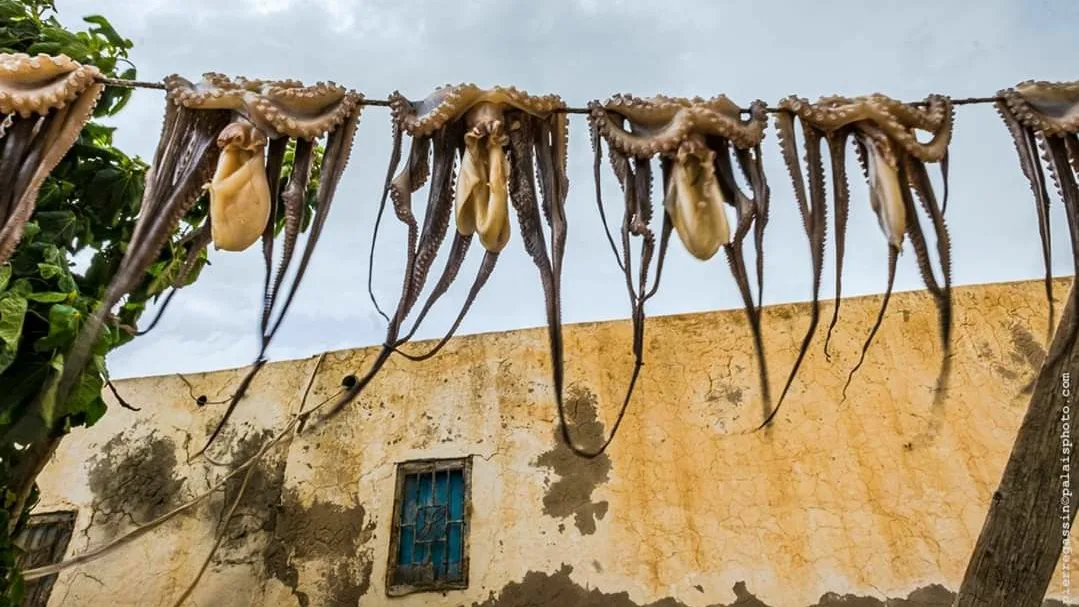 Sustaining the Sea's Enigma: Navigating Tunisia's Octopus Fishery Regulations
According to law n° 94-13 of January 31, 1994, the octopus fishery in Tunisia is managed meticulously, with timed fishing campaigns running from mid-October to mid-May. However, from May 15th to mid-October, and occasionally until November, a strict fishing ban is in effect to protect the octopus population during its critical reproductive period. According to Hanem Djabou, a researcher at the National Institute of Science and Technologies of the Sea, these decisions are not arbitrary, but rather the result of extensive scientific research conducted by researchers and the General Directorate of Fisheries.
A comprehensive assessment of the octopus population's size and abundance ensures the implementation of sustainable fishing practices and optimizes its management. This policy is intended to protect octopuses during their critical reproductive period, ensuring population replenishment and ecological balance. According to Hanem Djabou, market regulation is also an important aspect of octopus conservation. It is specifically prohibited to catch octopuses weighing less than 1 kg. This weight threshold is important because it indicates that the octopus has reproduced at least once, ensuring the survival of the population. Landings of less than the regulatory size, as with all species, are tolerated as long as they do not exceed 10% of total catches.
According to the General Directorate of Fisheries and Aquaculture (GIPP), this balanced approach allows for some flexibility while ensuring that the majority of captured octopuses are of adequate size, indicating successful reproduction and contributing to the species' sustainability.
Kerkennah's Maritime Heritage: The Time-Honored Craft of Octopus Fishing
According to Ezzeddine Najai's research, two types of traps are commonly used for octopus fishing in Kerkennah: the well-known « clay jars » and hollow stones. Hollow stones were found to be more effective in capturing larger octopuses after his research and comparison of their catches, especially when placed in shallower waters near the coast. In fact, hollow stones used for capturing octopuses have been known since the early twentieth century. Since the 1950s, they have been exchanged for molded cement blocks with a hole. According to Kays, the Kerkennah families own sea plots that have been passed down through generations and are used for octopus fishing.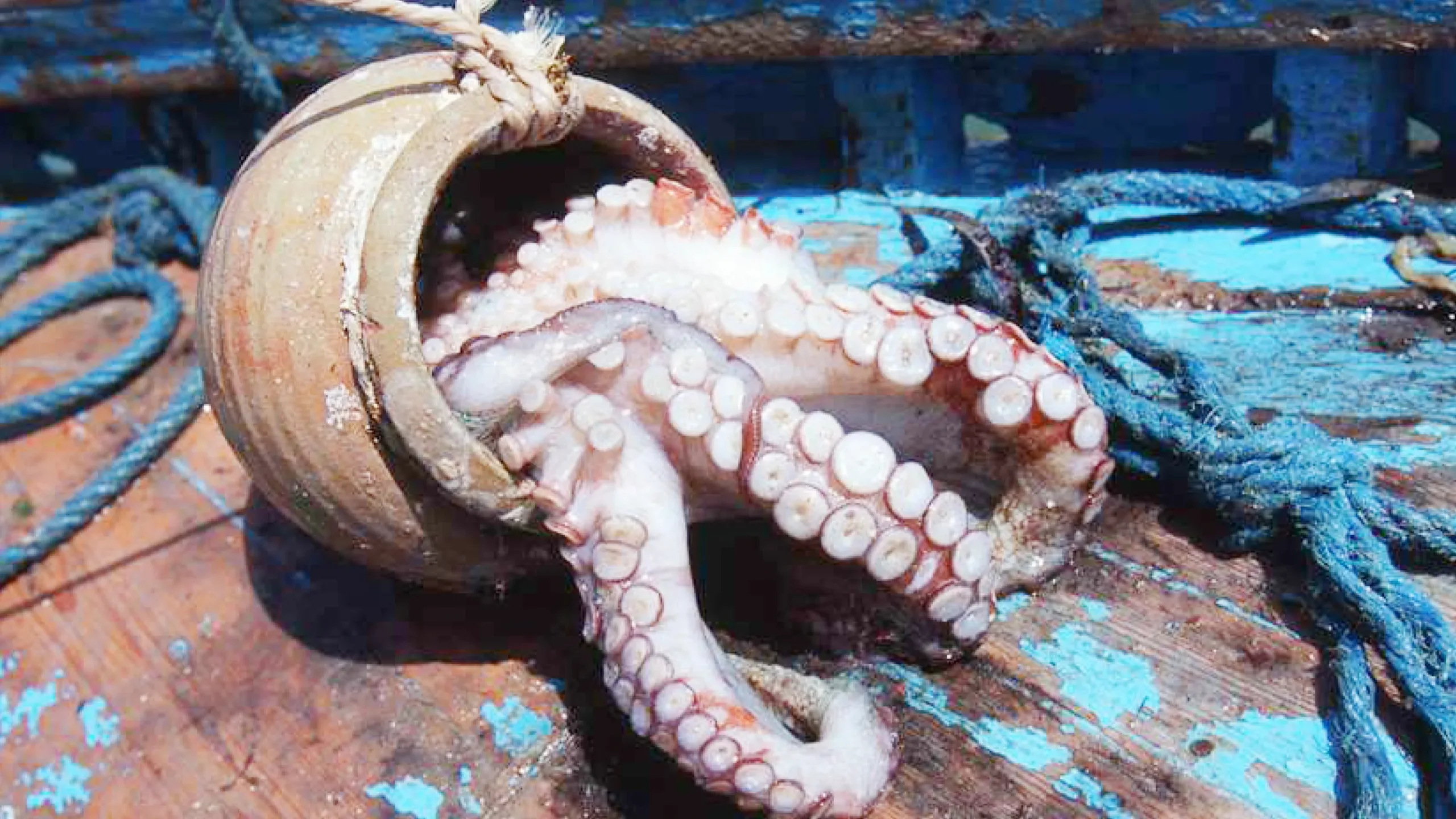 We have a habit of catching octopuses in these plots using pots, which are concrete blocks placed underwater. The fishermen then retrieve these pots and inspect the bottom of the trap for octopus. These creatures are extremely intelligent but extremely shy, seeking refuge in these pots that they consider to be their home.

Kays Ezzedine
Unfortunately, this cherished practice is dwindling over time, owing primarily to the presence of trawlers in the waters (kiss). These large fishing vessels endanger the traditional pots used by artisanal fishermen, causing damage that is often expensive to repair or replace.
The cost of maintaining our pots is becoming prohibitively expensive, and it's heartbreaking when those evil boats damage them. This entire situation is putting a significant strain on our ancient fishing technique. We used to have hundreds of these pots, but there are now only a few left. Our forefathers used traditional clay jars similar to the pots we use today. These jars are selective and environmentally friendly, demonstrating a high regard for the species. Unfortunately, we can't use them as freely as we used to due to trawlers invading our fishing plots and damaging our pots. Many people nowadays use plastic traps, which, while cheaper and easier to replace when they break, have a negative impact on the environment and are also illegal, » laments K.Ezzedine.
Octopus in Jeopardy: Uncovering the Menacing Forces Threatening Their Survival
According to Abir Gharbi, Fisheries and environmental engineer and fishery guard agent in the port of Sfax, the octopus is threatened by a slew of factors that threaten its survival in the marine ecosystem. Trawlers (kiss) are a major threat because they relentlessly scour the sea floor, disrupting the habitats where octopuses reproduce and thrive. These massive fishing vessels leave a trail of devastation in their wake, damaging the pots used by artisanal fishermen to catch their catch.
« Those trawlers, they are a menace! They come in with their destructive gear, tearing apart the sea floor. They show no mercy, destroying the benthic ecosystem and obliterating the Posidonia where our precious octopus lives and thrives. Witnessing the decimation of the marine life we rely on for our livelihoods is heartbreaking. And that's not all! These trawlers show no regard for the fishing gear and pots we painstakingly place in the waters. They crush them without remorse, leaving us with broken tools and shattered hopes. It's like they care only about their own gain, without any thought for the fishermen struggling to make a living. The sea is our lifeblood, the source of our sustenance and prosperity. But these self-centered trawlers appear to be concerned only with their profits, with no regard for the impact of their actions on our lives or the health of the sea we cherish, » castigates K.Ezzedine.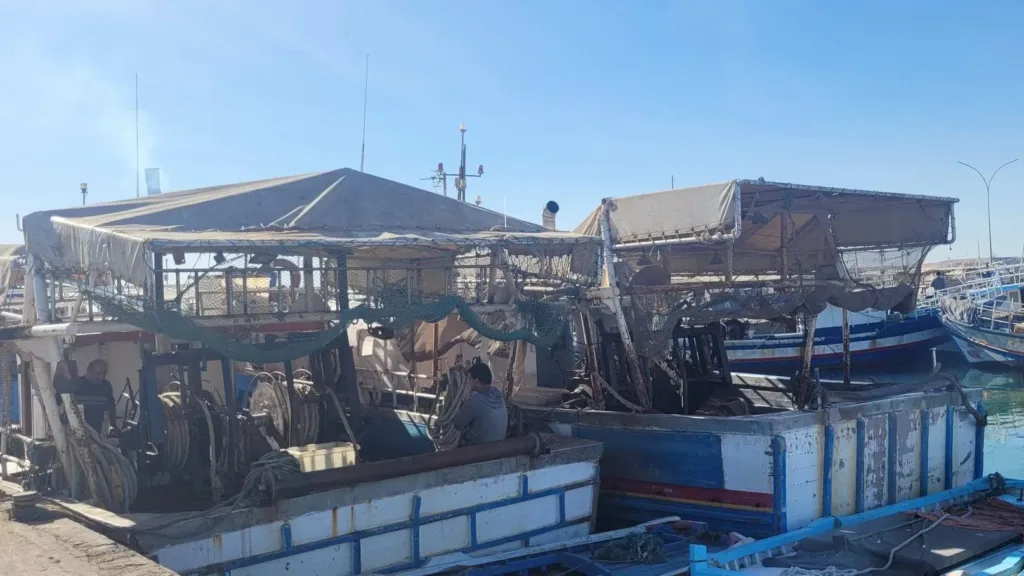 Furthermore, the invasion of species such as the voracious blue crab exacerbates the dangerous situation. These invasive creatures prey on young octopuses, reducing their chances of maturation and contributing to the population decline. Furthermore, the pervasiveness of climate change adds to the difficulties. Rising sea temperatures and acidification of the oceans disrupt the delicate balance of the marine environment, affecting Octopus reproductive patterns and prey availability. This ecological imbalance complicates their survival. According to Abir, overfishing is a major concern as the demand for Octopus grows. Indeed, without proper regulation and responsible fishing practices, the octopus population is in danger of being depleted, with long-term consequences for both the species and the fishing community. Finally, fishing during the reproductive seasons is detrimental to octopus populations. It reduces successful breeding, threatening their numbers and the sustainability of the fishery.
Unfortunately, some people do not follow the rules; they fish outside of the designated seasons and ignore other regulations. This reckless behavior harms the sea and affects all of us, especially those of us who follow the rules religiously.

Kays Ezzedine
The dramatic drop in average octopus production over the last decade is the result of the factors that have significantly challenged the country's fishery. According to Hanem Djabou, the average octopus production from 2008 to 2018 was around 35,000 tons, indicating a relatively stable industry. However, over the last three years (2019-2021), average production has dropped dramatically to less than 3,500 tons, a drop of more than 90% from the previous decade. This alarming decline highlights the combined impact of overfishing, climate change, and habitat degradation, all of which have had a significant impact on the octopus population.
From Rules to Resilience: Safeguarding the Octopus Population through Enforced Regulations
The octopus, scientifically classified as a « Cephalopod, » is a member of the larger group known as benthic species, according to the « Interprofessional Grouping of Fishery Products » (GIPP). It lives in depths of up to 150 meters as a coastal demersal species. The octopus has a size range of 15 to 25 cm, can grow to a maximum length of 55 cm, and a weight range of 0.15 to 2.2 kg. This species is a highly sought-after product in Tunisia, primarily for export markets. Octopus exports totaled approximately 1.1 thousand tons in 2020, reflecting a steady decline since 2017 when they peaked at around 1.9 thousand tons.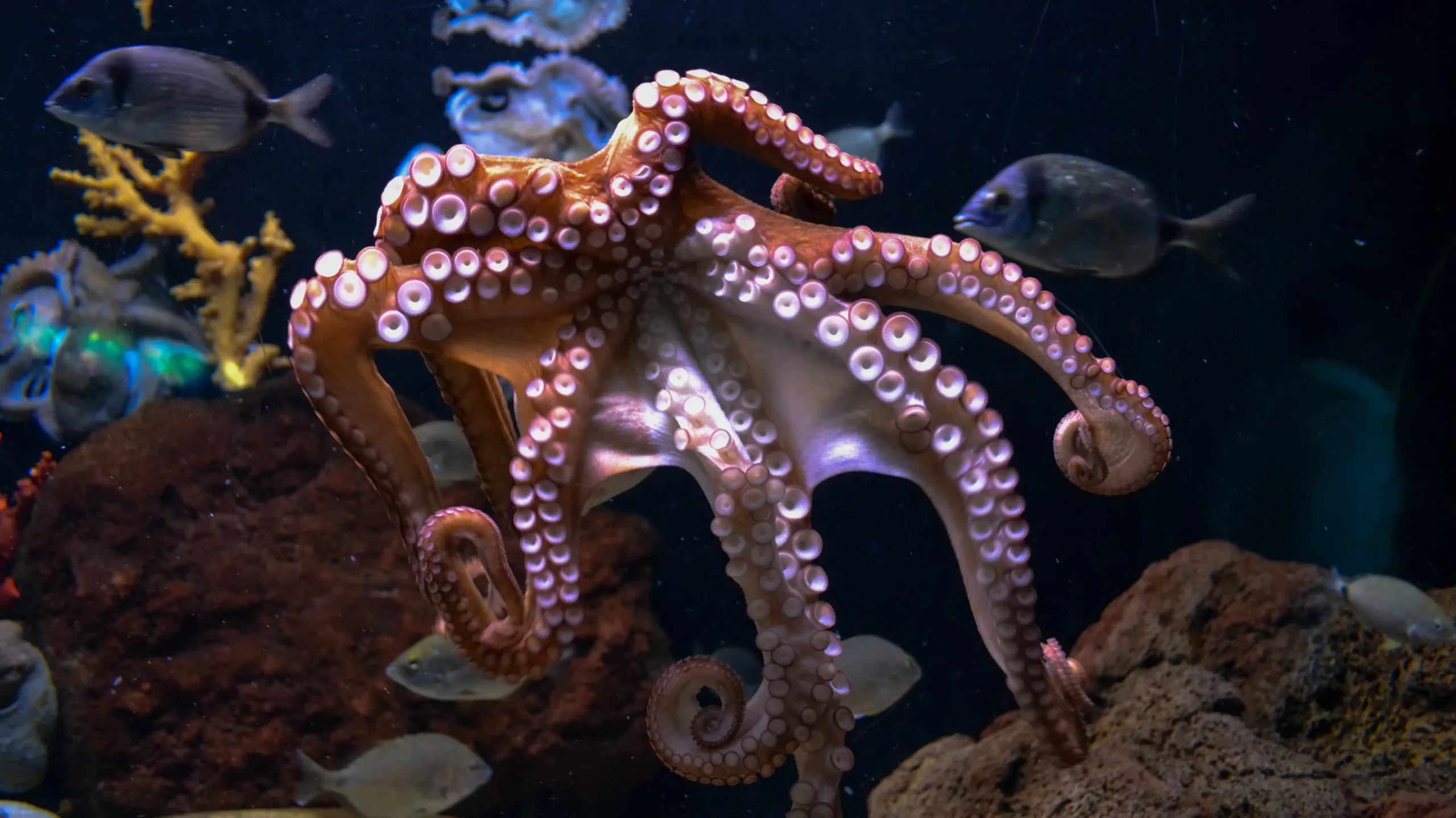 According to Abir Gharbi, one critical solution to addressing the identified problems in octopus fishing is strict and equitable enforcement of existing regulations. Combating illegal, unreported, and unregulated fishing practices (IUU fishing) is the primary challenge. To effectively address this issue, it is critical to provide the local fishing service with the logistical resources needed to supplement surveillance and monitoring efforts.
It irritates me as a fisherman to see how regulations are flouted. We have good laws, but they are not properly enforced. People disregard the rules and find ways to exploit them with no repercussions. What irritates me, even more, is the lack of concern for our marine life. I've seen baby octopuses sold for less than 200 grams, which is both wrong and unethical. They should be left to grow and reproduce in the sea, but they're being sold everywhere. Why do we turn a blind eye to these obvious violations that endanger our oceans?

Kays Ezzedine
In addition to enforcement measures, raising awareness among fishermen and local communities and education campaigns should be prioritized in order to effectively implement these measures. A culture of compliance and responsible fishing practices can be fostered by educating fishermen and local communities about fishing seasons, regulations, and the negative effects of overfishing. It is critical to encourage citizens to validate and reinforce adherence to regulations, such as prohibiting the consumption of octopuses outside of designated fishing seasons or weighing less than the required minimum weight. There has been a tremendous surge in awareness in recent years, thanks to the unwavering efforts of civil society and associations, with TunSea Association for Participatory Science leading the charge.
Finally, a more sustainable future for octopus fishing in Tunisia can be achieved by strictly enforcing regulations, raising awareness, and encouraging collaborative efforts. These solutions, when combined with a shared commitment to protecting marine resources, will be critical in preserving the ecosystem's delicate balance and ensuring the legacy of this culturally significant species for future generations.
This article was developed in collaboration with the Earth Journalism Media Mediterranean Initiative project.
Copyright © 2023 Blue Tunisia. All rights reserved
---
Sources: